Rose Walbrugh and I are proud to announce one click sending of data from BiomeSight.com based in the UK to MicrobiomePrescription.com. After you get your BiomeSight data processed, you can send the data across without needing to download and upload. You will be sent an email with an automatic login link (no more making up and remembering passwords!).
If you need to RESEND sample, see the bottom — there is an alternative way.
Once the [Send] button is clicked, you will get an email like shown below that allows you to login and explore your data deeper.

Clicking the link will log you in automatically, and you will see your sample and it's identified as originating with BiomeSight.

BiomeSight specific distributions of bacteria will automatically become available once there is a large enough sample.
DISCOUNT CODE
As part of this celebration, a discount code "MICRO" is offered on BiomeSight services. This results in £60 off, which brings the price down to £89 per kit ($110). Local USA fulfillment is now setup. Expedited 2 day delivery at £4.95.
Resend Sample
From Biomesight Support:

To be clear, there's 2 ways to send it – on the row itself, the button will not be available it was sent already. But you can also do it by selecting the rows and using an alternative button that will send it again regardless. The screenshot below shows both.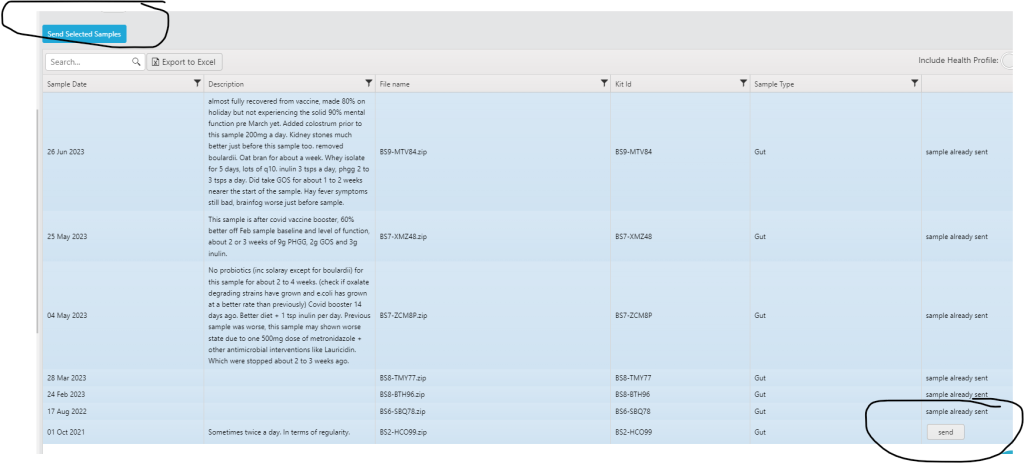 New Feature
After transferring the data you will get two emails. One to log into the site. The second is a PDF analysis with suggestions and literature supporting the suggestions.

Bottom Line
Microbiome Prescription is dedicated to working with labs to enrich user experience and knowledge. BiomeSight has stepped up to the plate for cooperation and win-win attitude.