Fungi and the microbiome finally got on my radar. Apologies to some, but there is a lot of different items on the microbiome radar screen.
"Small intestinal fungal overgrowth (SIFO)… Two recent studies showed that 26 % (24/94) and 25.3 % (38/150) of a series of patients with unexplained GI symptoms had SIFO. …. but evidence for eradication is lacking."

Small intestinal fungal overgrowth [2015]
As I did with taxa years ago, I will be writing a blog on each one reviewing the literature. If there is sufficient data at the end, I may add it as a feature to Microbiome Prescription.
One of my reader's results motivated review using Xenogene (ES) and Thorne (USA) reports that have been shared. The data from a shotgun test by Thorne had this being the highest fungi. They reported the percentile ranking of over 90%ile (i.e. 9 of 10 people who has this fungi, has less). This was their highest percentile and of concern is that this specific fungi is associated with Crohn's disease which they have (as does 26 other people who have spared their microbiome test results).
Basic Information
Overview: The Malassezia Genus in Skin and Systemic Diseases [2012] which cites
"A common characteristic of systemic infections of Malassezia yeasts in adults is the existence of a central venous catheter and total parenteral nutrition . Hematologic malignancies, cancer, and Crohn's disease were the background of Malassezia systemic infections. "

"the presence of Malassezia had significant consequences on the outcomes of Crohn's disease models." [2021]

"Pyrithione zinc kills Malassezia and all other fungi, and is highly effective against the Malassezia species actually found on scalp" [2005] – but that is a topical treatment.
Antimicrobial Susceptibility Testing for Three Malassezia Species [2023] found Itraconazole as the most effective.
In terms of non-prescription items:
Antifungal activity of herbal extracts against Malassezia species[2015] lists
nettle leaves (Urtica dioica),
colocynths fruits (Citrullus colocynthis),
green tea (Camellia sinensis),
burdock root (Arctium lappa) extracts
Anti-Malassezia furfur activity of Several Medicinal Herb [2019]
Cinnamomum cassia – Best: a.k.a. Chinese cinnamon,
Rhus javanica (next): a.k.a. Chinese Sumac
"Rhus javanica Linn, a traditional medicinal herb from the family Anacardiaceae, has been used in the treatment of liver diseases, cancer, parasitic infections, malaria and respiratory diseases in China, Korea and other Asian countries for centuries." [2015]
Inhibitory effect of plant essential oils on Malassezia strains from Iranian dermatitis patients [2018] reports (in decreasing order):
Cuminum cyminum [Cumin]
Lavandula stoechas [Spanish Lavender]
Artemisia sieberi [the desert worm wood]
More on Crohn's Disease
" The mycobiota of CD patients were characterized by an expansion of Malassezia and a depletion of Saccharomyces, along with increased abundances of Candida albicans and Malassezia restricta. Malassezia was associated with the need for treatment escalation during follow-up"

The ileal fungal microbiota is altered in Crohn's disease and is associated with the disease course [2022]
"The two patients whose IBD was active at the time of initiation of treatment had complete clinical and endoscopic response after 6 and 9 months of itraconazole treatment respectively …they were able to withdraw immunosuppression and anti-TNF-α therapy during the entire itraconazole treatment course and the time to relapse in two of the Crohn's patients was at least 10 months post-itraconazole therapy

The effects of itraconazole on inflammatory bowel disease activity in patients treated for histoplasmosis [2010]
The Montreal Heart Institute[2022] is sponsoring a clinical trail on terbinafine and itraconazole to treat Crohn's Disease.[Website][WHO Trial Information]
Bottom Line
This attempts to summarize the current information on Malasseziaceae.
Preventive for Fungi
The following are suggestions:
Reduce and keep your living space humidity at 50% or lower (typically done by dehumidifiers). EPA recommends 30-50% [EPA]; we set our dehumidifiers for 35%.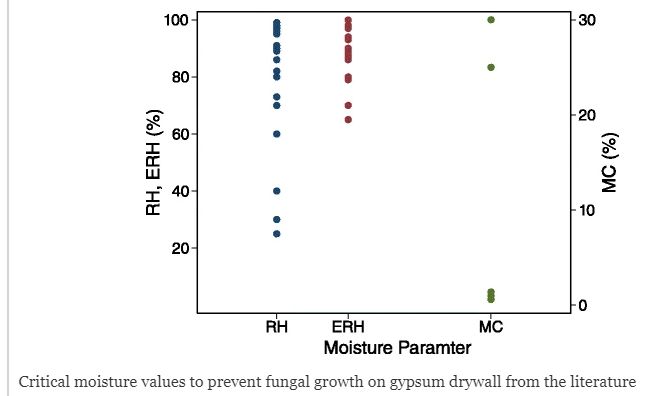 Moisture parameters and fungal communities associated with gypsum drywall in buildings [2015]
Remember, all fungi are not the same. Antibacterial and Antifungal Activities of Spices [2017] does not mention this fungi. Additionally, some spices are known to have Fungal Contamination of some Common Spices [2022] and Fungi and aflatoxins associated with spices in the Sultanate of Oman [2002] which included cloves (often deem an antifungal).