While there is some research of probiotics (a little, tiny amount may be more accurate for most) with just 38 strains being researched and available for retail sale. While it is a known issue (with no enforcement) for the bacteria species in many probiotics being misidentified (see Deceptive Probiotic Labels or Assessment of commercial probiotic bacterial contents and label accuracy), for the page cited below, we will assume that they are accurate.
Fortunately due to the data on KEGG: Kyoto Encyclopedia of Genes and Genomes we know what products that most species produces, and can infer the quantity of these products/enzymes that are produced.
Emoji codes
🍼 Probiotics
🏭 Compound Produced – Factories
🛍️ Compound Consumed (substrate) – Shopping basket
🏗️ Enzymes- Constructs process
🦠 Bacteria (general)
⚖️ Compare items
Location of Pages
After login, change display Level (top left corner) to a higher level, you will see a new menu item appear with several new pages. This post focuses on the probiotic only.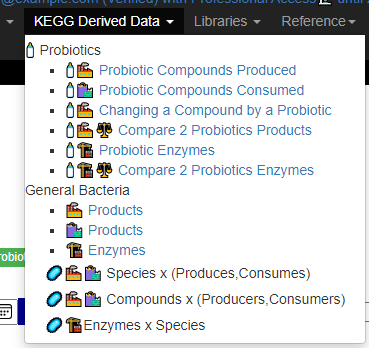 Each page follows the same pattern. Compound listed on left, estimate of number of units produces by cell and alternative names. The Compound or Enzyme is link to the KEGG page providing more (usually very technical) information.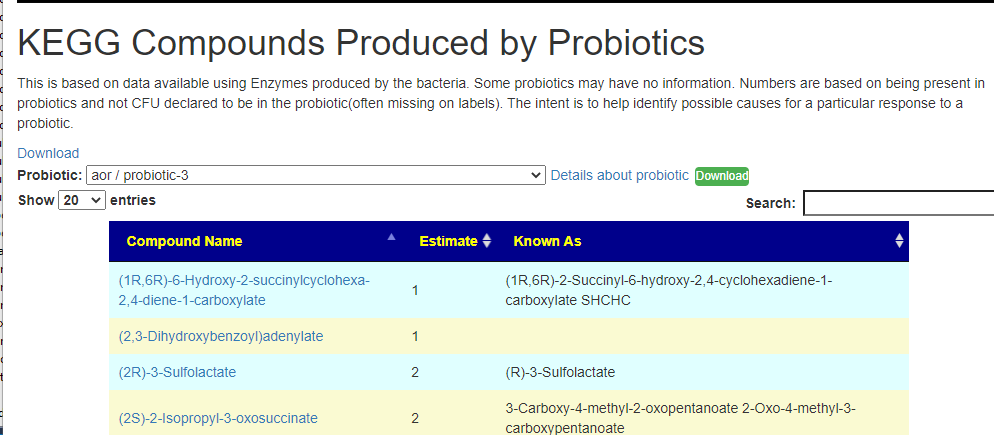 You can search by just typing the name in the search box. Some examples:



Fast identification of Probiotics for specific purpose
This page shows the compound with links to lists of probiotics. On the far right is the ID from the Organic Acts Tests (OATS – where a match could be identified)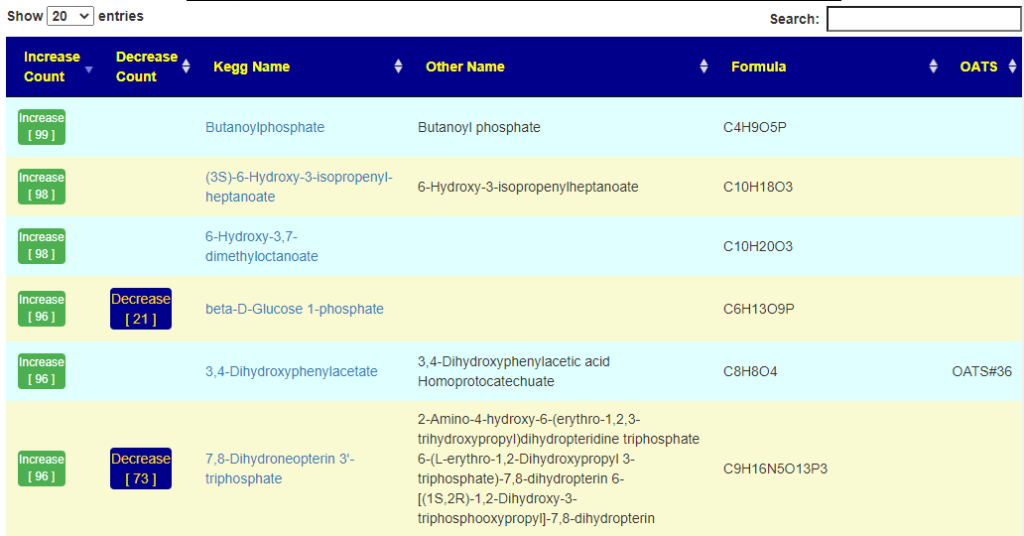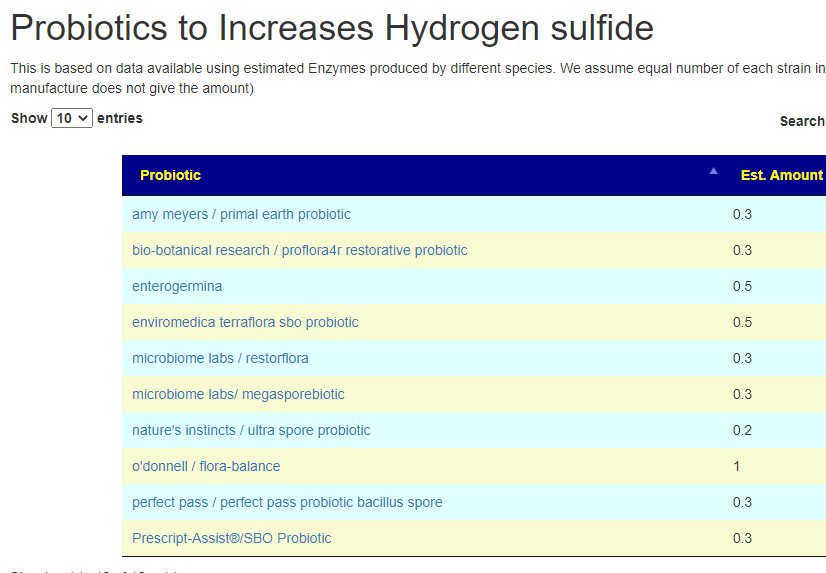 An example of the linked to KEGG page is shown below. This page can be a good starting point for a long and steep learning curve.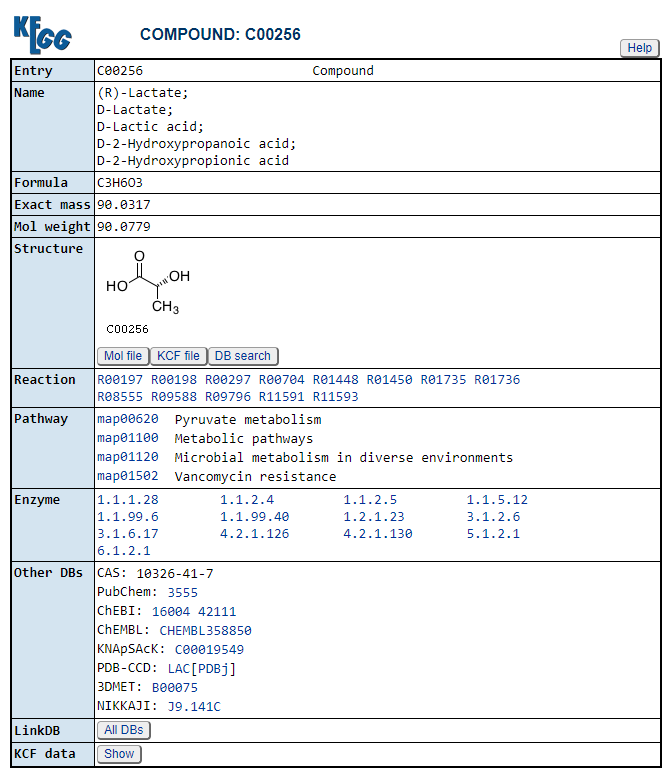 Compare Probiotics Pages
These pages allows you to select two different probiotics and see what each produces.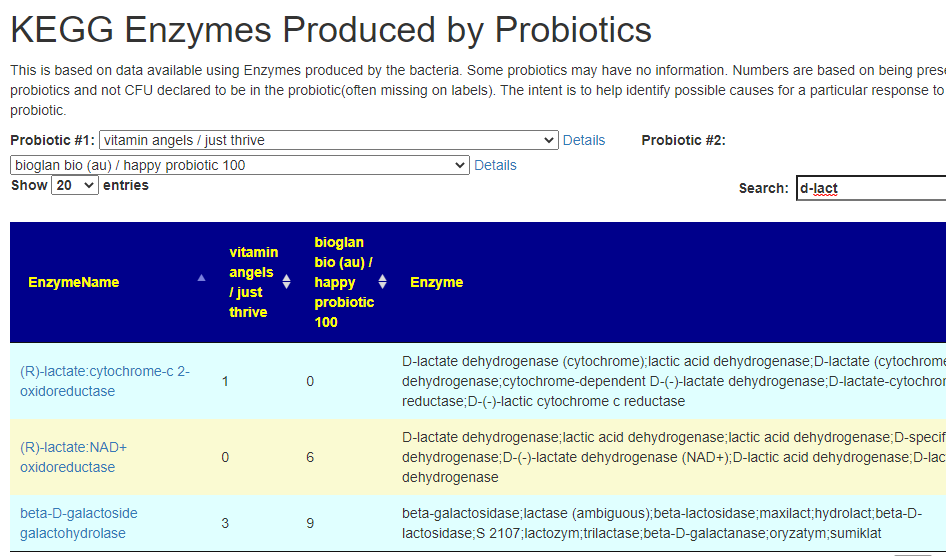 Bottom Line
This provides information that bridges the gaps in published research. If you know what you are trying to increase or decrease, this should provide guidance for you to discuss with your medical professional.
Direct Links