It is that season again — and some areas are reporting much higher levels than usual (with predictions for it getting worst). Some people will load themselves up daily on antihistamine, for example, Diphenhydramine HCl , which impacts over 800 different bacteria. We do have a profile of the bacteria shifts seen on Microbiome Prescription.
Supplements
The bad news is that we have lots of studies, but no good studies — all of them have problems…
" A total of 57 062 articles were derived from searching seven online databases and evidence from 48 RCTs and 10 observational studies were reviewed for methodological quality and risk of bias. No qualitative studies meeting the inclusion criteria could be found, therefore only a quantitative review was performed. "

Health supplements for allergic rhinitis: A mixed-methods systematic review [2020]
Probiotics?
Lactobacillus
"Probiotics may be beneficial in improving symptoms and quality of life in patients with allergic rhinitis; however, current evidence remains limited due to study heterogeneity and variable outcome measures. Additional high-quality studies are needed to establish appropriate recommendations."

A systematic review and meta-analysis of probiotics for the treatment of allergic rhinitis [2015]
Probiotic Potential of Lactobacillus Species in Allergic Rhinitis [2021 – full text] is a recent review with two appearing to be most likely effective (to some extent): Lactobacillus Casei and the closely related Lactobacillus Paracasei with dosages up to 30 billion CFU/day. These happen to be less than the suggested dosages from Custom Probiotic.
Bifidobacterium
If we look at Nat.Lib.of Medicine studies at Microbiome Prescription, we do not see any reports of low Lactobacillus. What we do see is low Bifidobacterium) ( Bifidobacterium longum , Bifidobacterium adolescentis, Bifidobacterium catenulatum) and Clostridium butyricum. Logically those seem better candidates!
Bifidobacterium longum produces a rich collection of end products (1,380), the absence of which may account for hay fever.
Bottom Line
I suspect Placebo effect and poor study construction has resulted in the fuzziness for supplements and lactobacillus probiotics. The Nat.Lib.of Medicine profiles points to some specific bacteria that are low and the available studies, appear to suggest that taking those bacteria as probiotics will significantly improve hay fever. The list is:
Adequate Vitamins D and E supplementation may also help. I use the word adequate because often the dosages suggested in some studies are insufficient to alter blood level by any reasonable amount in a month (see this post for a formula ) – hence "no effect".
There is one more path to consider, getting suggestions explicit for the shifts reports.

The results are shown below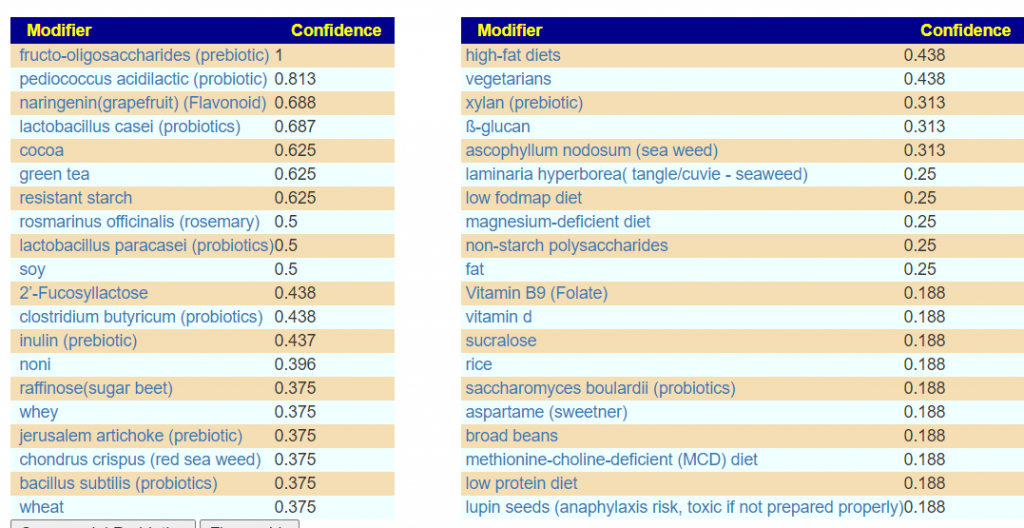 We see L.Casei, L. Paracasei and Clostridium butyricum on the recommended list — in agreement with the above. Further down, we see Selenium (cited above) also listed

The above is evidence based on the microbiome shifts seen with hay fever.