The parents provided rich information:
OmbreLab results
OmbreLab results processed thru BiomeSight (preferred because of Special Studies)
OATS
Both children are in the same household, so diet will be similar.
The Son
Our son is 14 and weighs 90 pounds and is Autistic. It's amazing that he sleeps well (10 hours) although the minute he gets up he is not stop moving, spinning, stimming, etc. He can be redirected and can follow directions and can slowly progress is school although if we could calm him down I think he could learn a ton. He understands everything we say and can ask for things if he slows down although he is not conversation. Every 6-8 weeks he seems to have face flair (although hasn't been that bad the last 6-10 months although we don't know if it's yeast, bacteria, etc. Once he has it his OCD kicks in and he can't stop putting lotions and creams on it. He's a skinny kid with not much muscle although can ride a bike, run a mile or two, etc.
The Daughter
Our daughter is almost 16 and is not verbal although uses a device. She has the autism diagnosis as well although also has a genetic mutation of the WDR45 gene (BPAN) which can create iron accumulation in the brain. We spend a lot of time with supplements, organic nutrition, gluten free, time on the treadmill and sauna and more to make sure her body is detoxing the best it can. She understands everything you say just can't speak back. Where my son is not stop she would cuddle all day and be 100% content. She also has fine and gross motor delays and in general is just cautious in her physical movement. We've treated for SIBO several times, etc. although we've obviously never solved the problem. She isn't necessarily constipated although 95% of the time needs assistance with a small suppository for her to go the bathroom. The stool is always there it's just like she doesn't have the urge to release it.
High Level Comparisons
Below are summaries of the two children for comparison
Daughter
Son
Biomesight Gut Wellness
77.37
85.89
Potential Medical Conditions Detected
none
a few fuzzy issues
Bacteria deemed Unhealthy
7
7
Dr. Jason Hawrelak Recommendations
98.8 %ile
99.7 %ile
KEGG Enzymes – Low Levels
Over reported (18.5)
Over reported (158)
Percentile Representation
High in rare bacteria
High in rare bacteria
Special Studies: Autism
49 matches
63 matches
Special Studies: Constipation
28 matches
19 matches
Probable Symptoms
Nothing

High Anxiety
85
Depression
85
ME/CFS with IBS
72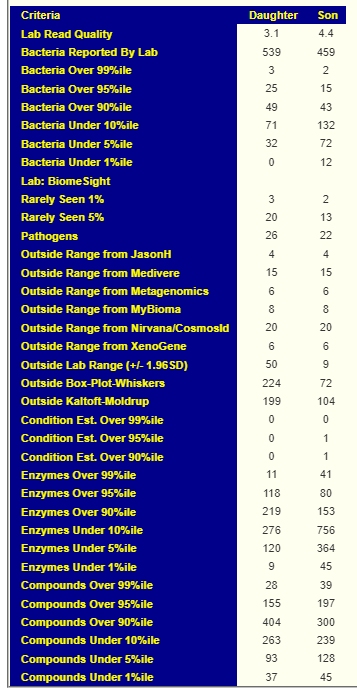 Comments on the above
Going thru the above, we see little difference between the two on may ways to evaluate the microbiome. However, there were a few where we see a great contrast:
Enzymes at both extremes are very much higher for the son (4x higher at both top and bottom 1%iles)
Bacteria under 1%ile is much higher with the son
Box-Whisker and Kaltoft-Moldrup are much higher with the daughter
Having profiles matching predicted symptoms, son only has significant matches
Daughter Action Plan
For the daughter, build up a consensus report from:
Special Studies Autism (49 all low)
Special Studies Constipation (28 all low)
PubMed Autism (6)
Box-Whisker (all were high)
Kaltoft-Moldrup (17 low, 72 high)
Obtain Probiotics from:
OATS
From KEGG Computation
From Consensus
Son Action Plan
For the son, build up a consensus report from:
Special Studies Autism (49 all low)
Special Studies Anxiety (30 all low)
Special Studies Depression (39 all low)
Special Studies ME/CFS with IBS (49 all low)
PubMed Autism (6)
Box-Whisker (5 too low, 44 too high)
Kaltoft-Moldrup (36 low, 39 high)
Obtain Probiotics from:
OATS
From KEGG Computation
From Consensus
This looks like a lot of work!
Actually, it's not — I have done a video doing the son to illustrate the steps better.
Son Consensus
My person picks from the list are below. I was not overly happy with the To Take suggestions.
Looking at the avoid items, I would be inclined to try shifting these items out of his diet (if it is in it)
apples
chicken (beef is a to take)
all probiotics except those below
Barley
Son Probiotics
See video for details, the key items that occured at the
Daughter Consensus
Some of the items may please the daughter.
On the avoid side, we see also:
Daughter Probiotics
The consensus probiotics were much different than her brother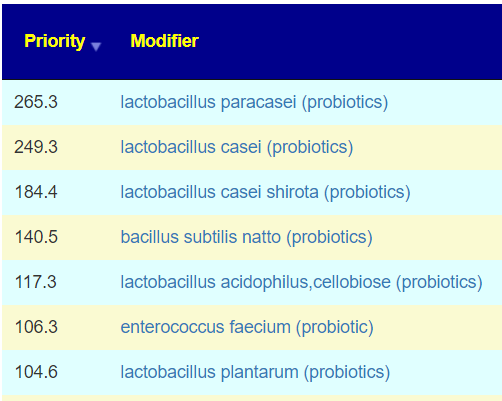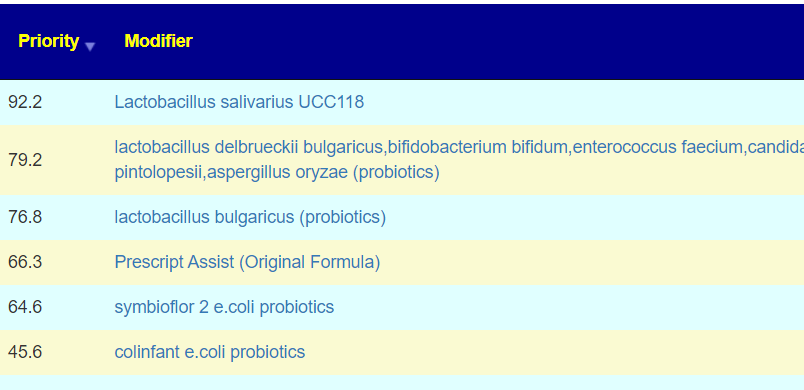 Looking at the OATS results, we see Bifidobacterium dominating it. This is not a surprise because Human milk oligosaccharides usually shows up when Bifidobacterium needs good encouragement. Please note: the list below did not use any microbiome data — just the OATS results.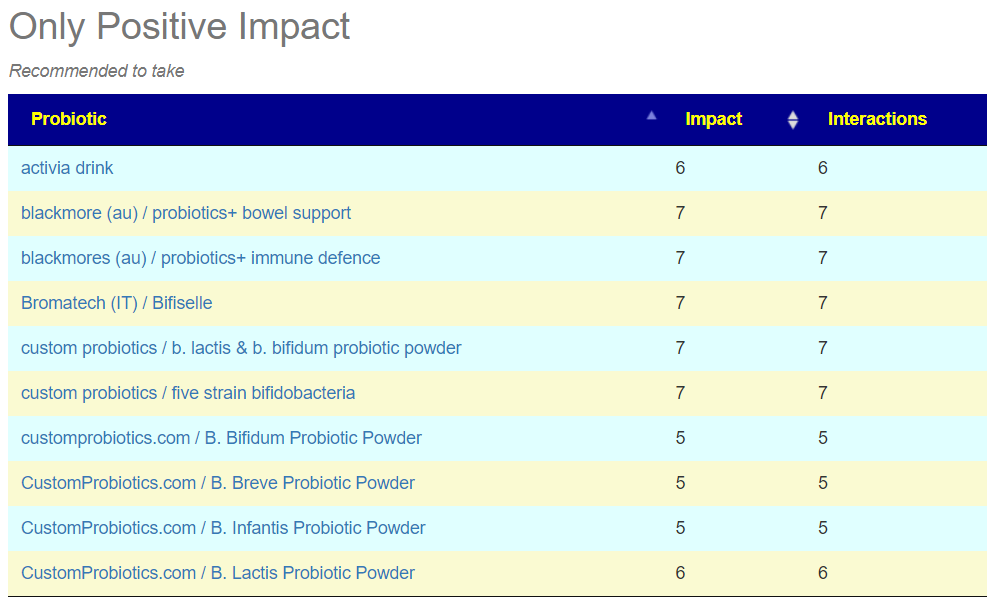 The revised KEGG Probiotic had two items that tend to be frequent:
If there are any Lactobacillus probiotics being taken, I would eliminate them.
Bottom Line
Everything in this post is created by modelling data and nothing has been validated clinically. The advantage with modelling is that it is usually better than than a MD tossing an idea out in frustration.
All suggestions should be reviewed by a qualified medical professional before starting.