With this being the Thanksgiving Weekend, I had time to work on my backlog. One of the items was special studies. I have done the following changes:
Executed the analysis for both uBiome and Thryve/Ombre samples. So more samples will have the option of using special studies.
Implemented Consensus/Monte Carlo between the bacteria, casting the species (which are not reported consistently between labs) to their genus. These are shown on the [Key Bacteria] link below.
Last, I have added per  Peripheral neuropathy to the symptom list.
REMEMBER TO ANNOTATED YOU SAMPLES WITH YOUR SYMPTOMS
This is what Special Studies use.

Example: for Chronic Fatigue Syndrome
The page below shows a distinct pattern for ME/CFS with Bifidobacterium being the greatest significance. For this bacteria, my first suggestion is simple:  Human milk oligosaccharides (HMOs) and Bifidobacerium infantis probiotics.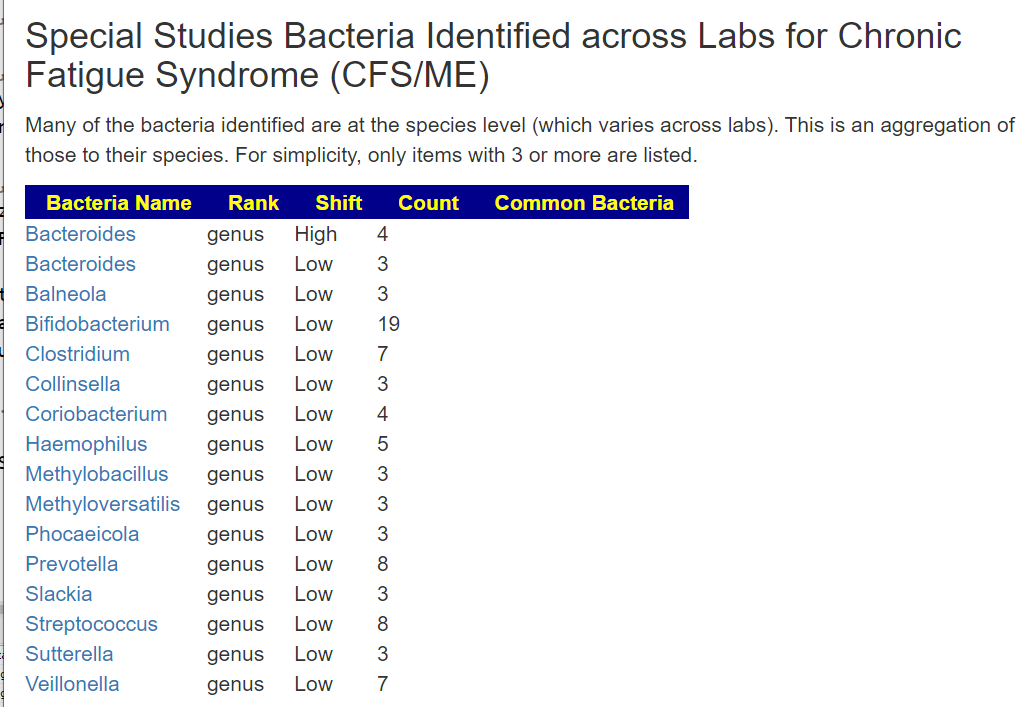 It is interesting to note that Lactobacillus does not appear as significant.
Bottom Line
Special Studies are still a "work-in-progress". Using them "as is" have not produced superior results to those from the standard triplet (Outside Lab Range, Box-Plot-Whiskers, Kaltoft-Moldrup) — see this post for an example. How do I determine which is better? For ME/CFS, we should have the top suggested items being cross validated with clinical studies. Feel free to explore the results.
I will continue working on getting superior results from special studies — stay tune!