Person Description
32 year old male living in Scandinavia

Health problems started at 16 years(possible overtrainig).

Symptoms:

Every night my body collapses,

my nose gets extremely red (rosacea),

pulse rises and it feels strange in my body.

Delayed if does not eat dinner.

Feel very tired and can't work out or even go short walks without getting tired (

mild CFS – diagnosed by a healthcare practitioner at 25 years

Brain fog.

Frozen/poor circulation in the body.

My body feels stressed,

Always feel and hear my pulse in the ears/head.

Problem with allergies/hypersensitivity to pollen, animals, strong fragrances, and against a lot of foods that I find difficult to identify.

Starting to get a lot of grey hair (none of my parents got grey hair in such a young age).

Diagnosed with SIBO 2 years ago.

Diagnosed with Epstein-Barr virus 4 years ago.
I have done a lot of different protocols but it none really help. Most beneficial for the red nose (rosacea) is eating a diet is consuming low meat, low fat, low starch and eat a lot of fruits, juices and smoothies.
Comment: My own experience dealing with a ME/CFS relapse was that they first test-change-retest cycles had little/slow progress (See my progress reports). He reported some positive change from the first cycle,
Microbiome Tests
First microbiome test in late August, 2021. Upload to Microbiome Prescription resulted in the following protocol:
Week 1-2: Rifaximin (as I understand you are not a fan of Rifaximin, but it was one of my top modifiers and I am also diagnosed with SIBO and have huge issues with rosacea on the nose).

Week 3-4: HMOWeek

5-6: Resveratrol, D-ribose (which I'm going to continue taking) and DAO.

Week 7-8: Symbioflor 2.
From this changes, he reported a little more energy, but no real progress with my rosacea. Biomesight is processing his second test – will be ready in 1-3 weeks.
He is able to get antibiotics prescribed and He is also willing to take antibiotics.
Analysis
Rosacea
Rosacea is one of the conditions that I maintain in my US National Library of Medicine microbiome shifts list [rosacea]. The number of studies is few. In keeping with best practices (combining clinical studies with microbiome results) I checked Clinical Studies, I found Rosacea: Treatment targets based on new physiopathology data [Dec 7, 2021] lists "treatment targets and possible treatments:
permanent vascular changes (medical and instrumental treatments);
flushing (betablockers, botulinum toxin);
innate immunity (antibiotics, nonspecific antioxidants and anti-inflammatory molecules);
a neurovascular component (analgesics, antidepressants);
Demodex (antiparasitic drugs);
microbiome;
skin barrier impairment (cosmetics and certain systemic drugs);
sebaceous glands (isotretinoin, surgery);
environmental factors (alcohol, coffee, UV exposure). "
So, approaching it via the microbiome is in agreement with latest clinical practice. We should be aware that "Frozen/poor circulation" and "vascular changes" hints at a possible co-factor.
"there is a lack of well-designed and controlled studies evaluating the causal relationship between rosacea and dietary factors." [2021]
"Rosacea is triggered by hot and spicy food" [2021]
Reviewing literatures for Treatments and Clinical Studies
Do not use metronidazole [2021]
Minocycline 100 mg/day [2020]
Gamma Linolenic Acid 320 mg/day [2020]
", mast cells (MCs) have emerged as key players in the pathogenesis of rosacea through the release of pro-inflammatory cytokines, chemokines, proteases, and antimicrobial peptides' [2021] – hints at DAO and mast cell stabilizers
silymarin/methylsulfonilmethane [2008]
"Only 17% of those with rosacea were impaired by sunlight, whereas 26% improved. In the rosacea group, "[1989] – hints at Vitamin D

"Serum vitamin D was lower in patients with rosacea" [2018]
"The present study suggests that an increase in vitamin D levels may contribute to the development of rosacea. ApaI and TaqI polymorphisms, and heterozygous Cdx2, wildtype ApaI and mutant TaqI alleles were significantly associated with rosacea." [2018]
SHORT FORM: Positive or negative response to sunlight/vitamin D depends on DNA
Looking at Suggestions from 1st Analysis
For a starting point, I used Advanced Suggestions. NOTE: The database is constantly being updated so suggestions on the same sample may change over time.

The results include some high weight items that was not included in his protocol. I checked if there was any results from clinical studies for Rosacea that used probiotics — I could not find any, thus the use of probiotics in a novel treatment approach. mutaflor escherichia coli nissle 1917 (probiotics) was included in take (so Symbioflor-2 is a valid substitution)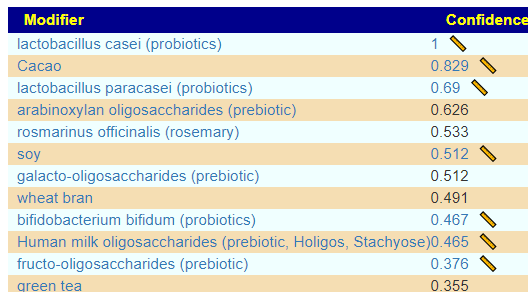 It is interesting that Lactobacillus casei and L. paracasei degrades histamines [Post 2021] which should improve allergies/hypersensitivity reported.
Please note that some probiotics are on the to-avoid list, including:
Dropping the Pub Med Filter for Rosacea, had some items that may impact circulation issues and mast cell issues positively:
Further Digging
The suspected cause being overtraining lead me to the shifts know to occur. The literature is below
Citation
Intensive, prolonged exercise seemingly causes gut dysbiosis in female endurance runners.
Journal of clinical biochemistry and nutrition (J Clin Biochem Nutr ) Vol: 68 Issue 3 Pages: 253-258
Pub: 2021 May Epub: 2020 Oct 31 Authors Morishima S , Aoi W , Kawamura A , Kawase T , Takagi T , Naito Y , Tsukahara T , Inoue R ,
Summary Html Article Publication
Rapid gut microbiome changes in a world-class ultramarathon runner.
Physiological reports (Physiol Rep ) Vol: 7 Issue 24 Pages: e14313
Pub: 2019 Dec Epub: Authors Grosicki GJ , Durk RP , Bagley JR ,
Summary Html Article Publication
Physiological and Biochemical Effects of Intrinsically High and Low Exercise Capacities Through Multiomics Approaches.
Frontiers in physiology (Front Physiol ) Vol: 10 Issue Pages: 1201
Pub: 2019 Epub: 2019 Sep 18 Authors Tung YT , Hsu YJ , Liao CC , Ho ST , Huang CC , Huang WC ,
Summary Html Article Publication
Improvement of non-invasive markers of NAFLD from an individualised, web-based exercise program.
Alimentary pharmacology & therapeutics (Aliment Pharmacol Ther ) Vol: 50 Issue 8 Pages: 930-939
Pub: 2019 Oct Epub: 2019 Jul 25 Authors Huber Y , Pfirrmann D , Gebhardt I , Labenz C , Gehrke N , Straub BK , Ruckes C , Bantel H , Belda E , Clément K , Leeming DJ , Karsdal MA , Galle PR , Simon P , Schattenberg JM ,
Summary Publication Publication
Home-based exercise training influences gut bacterial levels in multiple sclerosis.
Complementary therapies in clinical practice (Complement Ther Clin Pract ) Vol: 45 Issue Pages: 101463
Pub: 2021 Jul 30 Epub: 2021 Jul 30 Authors Mokhtarzade M , Molanouri Shamsi M , Abolhasani M , Bakhshi B , Sahraian MA , Quinn LS , Negaresh R ,
Summary Publication
Are nutrition and physical activity associated with gut microbiota? A pilot study on a sample of healthy young adults.
Annali di igiene : medicina preventiva e di comunita (Ann Ig ) Vol: 32 Issue 5 Pages: 521-527
Pub: 2020 Sep-Oct Epub: Authors Valeriani F , Gallè F , Cattaruzza MS , Antinozzi M , Gianfranceschi G , Postiglione N , Romano Spica V , Liguori G ,
Summary Publication
Effect of an 8-week Exercise Training on Gut Microbiota in Physically Inactive Older Women.
International journal of sports medicine (Int J Sports Med ) Vol: Issue Pages:
Pub: 2020 Dec 15 Epub: 2020 Dec 15 Authors Zhong F , Wen X , Yang M , Lai HY , Momma H , Cheng L , Sun X , Nagatomi R , Huang C ,
Summary Publication Publication
The influence of exercise training volume alterations on the gut microbiome in highly-trained middle-distance runners.
European journal of sport science (Eur J Sport Sci ) Vol: Issue Pages: 1-0
Pub: 2021 May 26 Epub: 2021 May 26 Authors Craven J , Cox AJ , Bellinger P , Desbrow B , Irwin C , Buchan J , McCartney D , Sabapathy S ,
Summary Publication
🍽🦠 PubMed Studies Citing Bacteria Shifts for [Exercise]
Although it was a long time ago for the over-exercising, I decided to see if some of the changes may have the appearance of long term persistence. Running the known shifts against the two samples, I was actually surprised to see the earlier test had far more matches to the literature than the last test. Some items dropped off and only one item was added. Given that he had been implementing suggestions between the two samples, the improvement is nice to see.
tax_name
tax_rank
Early Test
Percentile
Last Test
Percentile
Acidobacteria
phylum
2.18
Actinobacteria
phylum
7.85
3.91
Akkermansia
genus
0.71
Akkermansia muciniphila
species
0.85
Burkholderiales
order
26.90
Chroococcales
order
3.24
26.00
Clostridiaceae
family
97.81
98.68
Deferribacterales
order
86.6
Eubacteriales Family XIII. Incertae Sedis
family
14.75
6.56
Hyphomicrobiales
order
2.53
Moorella group
no rank
2.54
Prevotella bivia
species
75.47
Proteobacteria
phylum
13.97
14.64
Ruminococcaceae
family
21.02
8.95
Streptococcus australis
species
87.87
83.60
Streptococcus thermophilus
species
83.16
Streptococcus vestibularis
species
75.94
Sutterellaceae
family
18.94
Continuing this logical exercise, "What would be suggested if I keep my scope to counteracting only the shifts that may be ascribed to over-exercising?" This assumes that the over-exercised shift created a stable dysfunctional microbiome that persisted. To do this, I used my Biome View and hand picked the above items. Many of the items are also on the list above.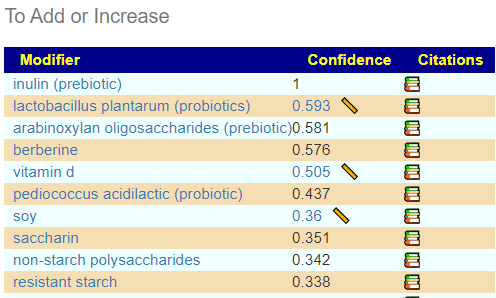 With one probiotic being well suggested (but likely difficult to get except by mail order). I included prescription items in the choices — none made it on the to add list, many appear on the to avoid list.


In terms of Flavonoids, Apples (I recall that at least 2 a day were needed from a study that I read recently) and Almonds (perhaps marzipan could work similarly… no studies, but given where he is, marzipan is definitely available)
Evaluating things tried
I recently added the ability to compare two samples in the light of taking some microbiome modifier (see this post for more details)
Week 1-2: Rifaximin (as I understand you are not a fan of Rifaximin, but it was one of my top modifiers and I am also diagnosed with SIBO and have huge issues with rosacea on the nose). Results: AGREES 25, DIFFERS:23
Week 3-4: HMO Week AGREES: 62 DIFFERS:58
5-6:

Resveratrol, AGREES: 45 DIFFERS:40
D-ribose (which I'm going to continue taking) AGREES: 6.2 DIFFERS:2.4
DAO (Nothing in database)

Week 7-8: Symbioflor 2. AGREES 0.5 DIFFERS:4.6

I decided to checked Mutaflor (it's siblings) AGREES 4.1 DIFFERS 2.4
The goal of this website has always been "Better suggestions than random suggestions". In our review above, we found that AGREES > DIFFERS except for Symbioflor-2. The shifts seen more typical for Mutaflor (E.Coli Nissle 1917 probiotic). What I found most interesting was that the modifier that the reader has decided to continue, d-ribose, was also the one with the best ratio between Agrees/Differ. D-ribose has been documented to improve ME/CFS and FM (see this post for study links)
I was pleased to see almost every modifier had positive impact, but wish the amount was more.
Other Threads?
There is a tendency to try to fix everything at one time. My preference is to focus always on one to two items between tests. We have two threads — Rosacea and Over-exercising. Suggestions are similar and I would say run with it for 2-3 months and then retest.
As illustrated here (and in this prior review), we have some objectivity in evaluating the effectiveness of microbiome modifiers between samples — it should be helpful in improved picks over a series of samples.